bayangkan.. jika masalah ini wujud serentak dalam suasana peperiksaan anda, apabila skuter kesayangan dicuri, ditambah pula dgn subjek yg kena repeat, masalah peribadi yg sukar diluahkan dan tekanan diminggu peperiksaan yang mengundang demam..
agak2 korang la, camner la situasi minda korang taim tuh? sukar nak diungkapkan kan? tp, perkara2 begini boleh mendorong seseorang utk lebih berusaha, usaha dan usaha walaupon tekanannya melepasi had bagi seorang yg biasa.. dan pastinya hidup lebih gembira dan tak terkata bila habuan yg diterima berbaloi dgn tekanan yg dihadapi..
it seems to be really hard for someone, but not for her..
President of Yul
, congrats..! ni bukan result biasa, tapi dapat Dean List.. tabik spring kat ko!! keep up the good work, ok? ...and sorry to expose u in this entry.. ;)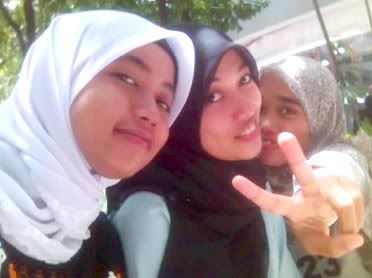 "Char Kuetiaw 8 utk makan sini, pahtu 8 lagi, take away dehh..."
>> sem dpn Pid nak ketuk pale aku kalo lambat g kelas.. camner neh? ;P